Hotel Sonali – the best budget hotel and resort in Lataguri! Hotel Sonali is a deluxe hotel. Hotel Sonali situated at Lataguri Neora More, near Gorumara Interpretation Centre, N.H.-31, District – Jalpaiguri (West Bengal).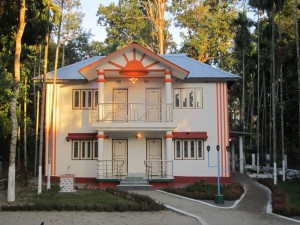 On the foot of jungle with beautiful nature of greenery HOTEL SONALI is grown up.  It is just beside the Gorumara Nature Interpretation Centre, green tea gardens and forest. It offers you a grand view of Duars jungles & serenity. A wonderful eco friendly place wrapped in the lush embrace of a tropical rain forest. You will be in perfect harmony with nature, pristine and waiting to be explored. Allow yourself to be seduced by the composition of delicate, elusive sounds accompanying nature. Quietly elegant and exclusive, the Hotel is a state of mind with breath taking vistas.
It is a duplex type building of with large spacious marble finished bed rooms. The ambience is one of its unique, honeymoon couples and travellers will find it to be the ultimate refuge for luxury and comfort.  It has 9 bed rooms with attached bathroom and jungle view Balcony.  The rooms are furnished with modern amenities. It has a beautiful Lawn on which a beautiful dining hall is built. In our restaurant you can enjoy the taste of delicious Indian, continental or Chinese foods.
Welcome to Hotel Sonali – Lataguri
Hotel Sonali invites you all for a holiday vacation, be it a wildlife Tour or Leisure Trip or Bird Watching. Hotel Sonali is in the heart of Duars or Dooars. With its magnificent natural beauty, Dooars is a dream destination of every traveler. Dooars is the combination of the tropical forests that enriched with various kind of wildlife, countless hill streams that cut the green carpet of tea gardens and rolling plains, low hills rising up from the rivers. Escape from the grime of the city and come to us!