Lataguri Hotel Sonali, Welcomes you to Gorumara, Dooars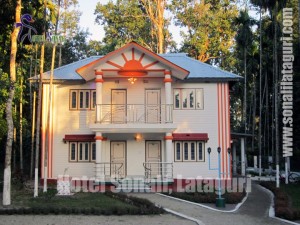 In Lataguri, Hotel Sonali is a property close to the Garumara National Park. It is situated at Lataguri Neora More, near Gorumara Interpretation Centre, N.H.-31, District – Jalpaiguri (West Bengal). Just walking distance from Garumara Nature Interpretation Center and Deer Rescue Park. It is located in the heart of Gorumara national Park area. The hotel is suited for various nature and wild life based activities like bird watching, Jungle safari by Jeep or Elephant or Bullock Carts, nature walks and treks through jungles to enjoy the exotic wild life. It has different types of deluxe rooms fully furnished with modern amenities. From the resort you can get a panoramic view of Jungle, Tea garden and the Great Himalayas.
In Lataguri, Hotel Sonali offers clean, inexpensive accommodation in a pastoral, quiet surrounding and good environment free from effluence of the congested city.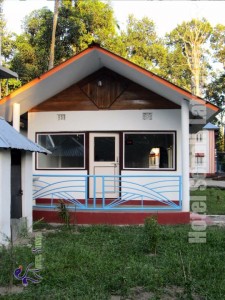 Located just 33 km from Jalpaiguri, 17 km from Chalsa, 78 km from NJP (Nearest Rail Station) makes it a perfect weekend getaway near Siliguri just 79 km travel path. After a beautiful green lawn it is a duplex type building with large spacious marble finished bed rooms. Deluxe rooms, A jungle view balcony adds spice to the stay. A nice serene jungle stay in reasonable price.
 "Great Holidays, Great Memories with Lataguri Hotel Sonali"
LATAGURI  is a small Forest covered town located in the centre of Duars, just outside the Gorumara National Park on National Highway 31 in the Jalpaiguri district of Indian state of West Bengal. Permits for entering Gorumara and Chapramari Wildlife Sanctuary are given from Lataguri.
After having your breakfast in early morning in Lataguri Hotel Sonali, you may visit to Jhalong / Bindu / Chapramari in the lap of Himalaya – The area is known for its diversified flora and fauna – It provides habitat for the Royal Bengal Tiger, Gaur, Leopard, Sambar, Chital, Hog Deer, Barking deer etc – Early evening (4 PM to 6 PM) Jungle safari subjected to availability of ticket – In the late evening Campfire and Tribal Dance in the Lataguri Hotel Sonali can be arranged (Optional).