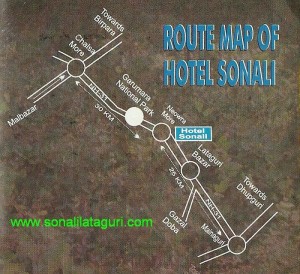 Hotel Sonali, Lataguri offers clean, inexpensive accommodation in a pastoral, quiet surrounding and good environment free from effluence of the congested city. Located just 33 km from Jalpaiguri, 17 km from Chalsa, 78 km from NJP (Nearest Rail Station) makes it a perfect weekend getaway near Siliguri just 79 km travel path.
From Siliguri / NJP / Bagdogra a journey through an tranquil surroundings starts just after leaving city, along NH-31, passing through picturesque beauties of MongPong, Odlabari, Bagrakote, and Malbazer, view slender and beautiful Lees, Gheesh and many more such rivers. After reaching Chalsa the road head in two diverse ways. The straight one heads to Binnaguri, Banarhat and Assam. Where as the right one leads to the verdant green of Gorumara National Park and Lataguri.
Lataguri Gorumara :: Hotel Sonali

Lataguri is a small town located in the center of Duars, just outside the Gorumara National Park on National Highway 31 in the Jalpaiguri district of Indian state of West Bengal. Permits for entering Gorumara and Chapramari Wildlife Sanctuary are given from Lataguri. View Larger Map
LATAGURI the sleepy hamlet surrounded by Gorumara forest, more than a few rivers, tea gardens and jungle villages attract tourists from all places. With rapid emerging infrastructure and it's sensibly cherished natural beauty, Lataguri has come under attention of world of tourism. Eventually, Hotel Sonali in Lataguri on the lap of its wild Gorumara forest has become an important focal point.
Near Neora More Bus Stand
Hotel Sonali located just beside Gorumara Nature  Interpretation Centre
Hotel Sonali, in Lataguri Gorumara forest distances from
Maynaguri Railway Station          20 KM
New Mal Railway Station              30 KM
Bagdogra Airport                                              87 KM
New Jalpaiguri Railway Station (NJP)      72 KM
Tenzing Norgey Central Bus Terminus    74 KM
Siliguri to Panchavati Forest Resort        71 KM
We offer Pick up service from NJP railway station / Bagdogra Airport / Mal Railway station.  Price for Pick-Up / Car services to be inquired at the time of requirement from the place via  phone.
Lataguri Gorumara Climate
Winter (November to February)  10°C – 20°C
Summer (March to May) 21°C – 38°C
Monsoon (Jun. to Sep.)    27°C – 32°C
Best Season to visit Lataguri Gorumara : October To May
Lataguri Gorumara Average Rainfall : 382 CM
Clothing Winter : Heavy Woolen
Nearest Major Places around Lataguri Gorumara :
| | | | | | |
| --- | --- | --- | --- | --- | --- |
| Garumara | 10 Kms. | Murti | 17 Kms | Khunia | 28 Kms |
| Chapramari | 34 Kms | Medla watch tower | 17 Kms | Jhalong | 63 Kms |
| Bindu | 75 Kms | Chalsa | 20 Kms | Meteli | 28 Kms |
| Samsing | 38 Kms | Suntale khola | 42 Kms | Malbazar | 30 Kms |
| Lava | 92 Kms | Rishop | 98  Kms | Lolegaon | 116 Kms |
| Kalimpong | 109 Kms | Darjeeling | 130 Kms | Gangtok | 156 Kms |
| Madarihat | 78 Kms | Jaldapara | 90 Kms | Kunja nagar | 90 Kms |