Travel Lataguri Dooars :: places of interests near Gorumara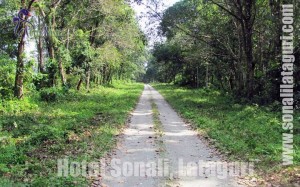 Travel Lataguri Dooars :: Duars is the blend of the tropical forests that enriched with many kind of wildlife, countless hill streams, and green carpet of tea gardens, low hills rising up from the rivers, Escape from the grime of the city!
Jhalong, Bindu, Paren (famous for Hydro-electric Power plant) are local hill stations. These are beautiful with there canyon type entrance road with river flowing in between.
Samsing, Santalakhola and Rocky Island are another group of local hill stations.
Odlabari Dam: is a beautiful place with big dam on river teesta with full himalayan range at the view point.
Kunjanagar Tiger Rescue Centre near Falakata (85 Km), Chilapata Range is also not far off,  Jaldapara National Park & Buxa Tiger Reserve is also within (100 Km)
Jalpesh (Shiva ) Temple
Jatileswar Temple ( 17 to 30 km)
Chapramari ~ 34 km :: Travel Lataguri Dooras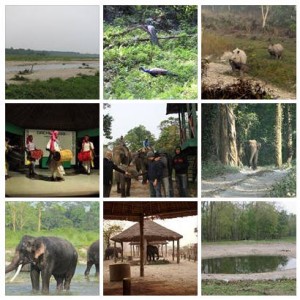 It offers a breath taking view of forests against the backdrop of the Kanchenjunga and other Himalayan peaks. It is the home to various wildlife and mammals like Elephant, Gaur, and Leopard etc. Chapramari Wildlife Reserve is close to the Gorumara National Park, is about 34 kilometres from Lataguri in Dooars, northern West Bengal, India.
Chalsa ~ 20 Km
When you travel Lataguri Dooars, as you reach this place one can enjoy the picturesque beauty of hills and tea gardens. The Murti river flows down the small hillock and tea gardens.
Murti ~ 15 Km
Admirable scenic beauty is the main attraction of this site among travel Lataguri Dooars. Both Gorumara National Park and Chapramari Wild Life Sanctuary are very close to this place.
Samsing, Suntaneykhola ~ 42 Km :: travel lataguri doors
Samsing is a small hill village and tourist spot in the Kalimpong subdivision of Darjeeling district, situated at an elevation of 3000 ft. It is known for its beautiful landscape with green tea gardens, hills and forests, which attract a lot of tourists. Picturesque Dooars gives more eye-catching view to visitors as and when we put our steps on samsing situated at an elevation of 3000 ft.  Covering a distance about 82 kms from Siliguri surrounding with tea gardens through out the memorable journey nature lovers will definitely enjoy this cool calm shady place.
Suntaley Khola is about four kilometers more up the road from Samsing .It gets it name from a small creek; Suntaley Khola. In Nepali Suntaley means orange and khola means stream.  It is also a place for birding with birds.  The hills with green all round will never let you feel alone in this heavenly landscape.
Jhalong, Bindu ~ 60 Km
The place is a stunning hill village on the banks of the Jaldhaka river situated very close to the Kingdom of Bhutan. Situated at an altitude of 800m, it is a low altitude hill station and can be used as a base for several short treks to lower Kalimpong hills.
​Jaldapara Wildlife Sanctuary ~ 90 Km
​It is a national park situated at the foothills of Eastern Himalayas in Alipurduar Sub-Division of Jalpaiguri district in West Bengal and on the bank of river Torsa.
Totopara
In Travel Lataguri Dooars – Totopara is  22 km from Madarihat, the entrance of the famous Jaldapara National Park. home to the Toto Tribe, one of the few remaining tribes of its kind in the world. Their customs and culture have invoked great interest amongst anthropologists.
Kalimpong
Kalimpong is a hill station in the Lesser Himalaya in the state of West Bengal. It is located at an average elevation of 1,250 metres (4,101 ft). The town is the headquarters of the Kalimpong subdivision, a part of the district of Darjeeling. The Indian Army's 27 Mountain Division is located on the outskirts of the town